What is the moisture content of the fuels?
We recommend a moisture content of less than 25% (M15-M30).
Above this level, we offer drying solutions.
Include CIBE link
What is the granulometry of the fuels?

The fuels recovered by Naoden solutions are graded P45-P63 with a maximum length of 100 mm.
What are the types of fuel?
The following fuels have already been tested and qualified by Naoden:
–          Grade A Wood
–          Grade B Wood
–          Cardboard
–          Green waste (branches, small wood fragments)
–          Fruit stones
We are looking for ways to develop fuels and can carry out tests on our test platform.
How much fuel is needed for one machine?

A Naoden unit consumes about 600 metric tons of fuel per year.
What is the percentage of ash?

The percentage of ash varies according to the fuel used. Overall, ash represents 5% of the fuel by mass.
What is the carbon content of the ash?

The carbon content is around 60%.
Depending on the type of fuel, the ash can be used for spreading or biochar (grade A wood) or sent to a treatment centre (grade B or other wood).
What is the space required for the machines?
Each module takes up about 5 m² on the ground and a complete plant stands within a platform of about 100 m².
How long does it take to set up a plant on site?
A Naoden power plant can be assembled in 5 days, excluding network connections.
What are the production times?
Production times vary from 3 to 6 months depending on the project context.
Is civil engineering required?
Our modules can be placed outside. Only a slab is required.
What is the composition of syngas?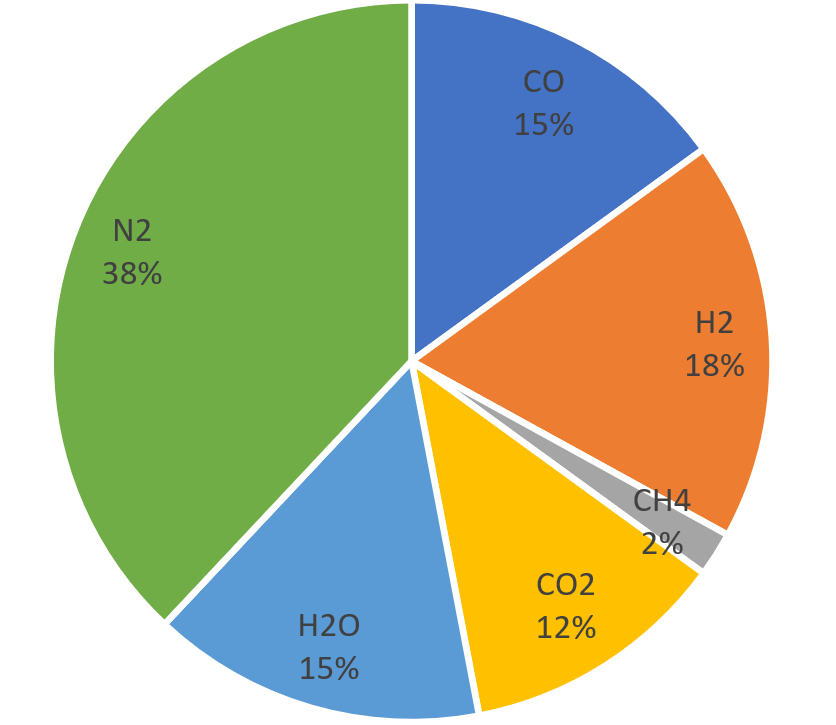 What is the output of a machine?
The overall output is 86%, breaking down as:
–          Thermal output: 56%
–          Electrical output: 30%
The units are not noisy. They do not generate any noise pollution.
Where does production take place?
The products are designed, assembled and installed by Naoden. 90% of our solutions are produced in the West of France.
What about the availability of spare parts?
As the units are standardised and have a low-tech approach, spare parts can be obtained in a very short time.
What is the life span of the machines?
Each component can be replaced without any availability constraints. In this respect, the units have unlimited use.